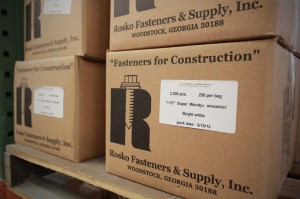 At Rosko Fasteners & Supply we are committed to the profitability of our customers. Since 1993 we have seen this mission accomplished in our customer's businesses and are honored to have served so many amazing people. But don't take our word for it. Read what a few of our customers have to say about us:
Bob Daley, Manager, Sundance Supply, LLC:
I have been buying from Rosko Fasteners for close to 10 years.  Rosko continues to impress me with their outstanding (and rather untypical) level of integrity and gracious approach to business.  Southern hospitality at it's best!  Prompt service and careful attention to our special needs.  In the rare occurrence of something going wrong Rosko takes full responsibility, swiftly making it right.  An uncommon posture in this day and age, especially for a small customer like Sundance Supply.
Steve Browning, President & CEO, Vulcan Steel Structures, Inc.:
Rosko does business the old fashioned way. They treat the customer right. You can count on them to deliver a quality product on schedule. It's a family owned and operated business that has their name and reputation at stake, so they care. We all know that's increasingly harder to find these days in all industries.
John M. Allin Sr., Crest Aluminum Products:
Since 1993, Rosko Fasteners has always fulfilled our orders in a timely and cost efficient manner; we would not even consider another vendor.  If you need quality with integrity, call the Rosko boys.
Jason Brookshire, Sales Manager, Tennessee Metal Products, LLC:
I have done business with Rosko Fasteners for 11 years. I keep coming back to Rosko Fasteners because of their competitive pricing, the quality of their products, and personal service. Rosko Fasteners has a great selection of quality products.  Orders are always filled in a timely manner no matter how large or small.  If I have a product  question or need a special part, they are always knowledgeable and quick to respond.  After years of doing business together, Rosko Fasteners has proven to provide honest and reliable service.  I would highly recommend them as a supplier to anyone in the metal roofing industry.
Tom Collins, President, Sunbelt Metals, Inc.: 
I've purchased from Rosko for 14 years. I keep coming back because they appreciate my business, they are family owned, they provide prompt service, and they have great customer service. Rosko provides excellent material and is a grade A company!
Chris Ashley, Echols Metals: 
Rosko Fasteners consistent attention to quality and on-time delivery keeps our business coming back to their products. In 15 years of doing business together, Rosko Fasteners has never failed to meet our expectations. Rosko Fasteners provides quality products with exceptional customer service. For our business, Rosko Fasteners is the one and only choice for our fastener needs.