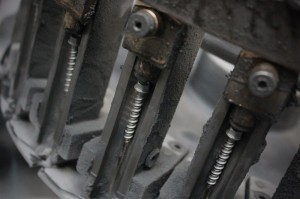 Quality products that meet or exceed your specifications, delivered in a timely manner, at competitive prices. Isn't that what you should expect from your supplier? At Rosko Fasteners and Supply you have our pledge of continually striving to meet your expectations. From customized color orders to a warehouse stocked with a variety of our most popular products and colors, our team is ready to fill your order.
Our products include our own Woody ™ and Super Woody ™ which feature the strongest points available in the industry today. Also, our self drillers are being specified by various metal building manufacturers around the country. All of our painted fasteners are hand racked prior to painting to guarantee that you will have 100% usable parts on delivery.
To download our entire catalog, click here. Otherwise feel free to view it section by section:
Aside from the products you will find here we offer a number of special services. Simply ask one of our sales representatives on how these services could help your project:
Computerized color, matching and mixing paint.

Custom Job Pack Programs.

Balanced Inventory Programs.

Specialized poly bagging per customer needs.

Same Day shipment available on current in-stock items.